Policy and Advocacy
SSPA advocates on behalf of our members for system-level changes that support the aspirations and outcomes of children, rangatahi and whānau, and which strengthen our community-based social services and social sector. We see change in these areas as interconnected. We ground this mahi in sound policy analysis, research and evidence. We are a bridge builder between government and the community, influencing and shaping policies, legislation and practices that place central advancing the outcomes and rights of children, rangatahi and whānau, and which strengthen the sustainability of community-based social services.
We regularly consult with our members on important issues. We also host member knowledge forums on relevant kaupapa in real-time, providing opportunities for members to gather the information they need, share what is important to them and connect with other members and experts, including from other sectors. Find out about upcoming and past member hui and forums here.
Some of the key ways we undertake our policy and advocacy mahi are:
Drawing on our members experiences, insights and views by bringing our them together in forums on key kaupapa
Making submissions to parliamentary select committees, consultations and system-level reviews.

Representing members' views to government ministers, key decision-makers and members of Parliament
Advisory to government on policy, legislation, planning and service design
Providing a community-based social sector voice on committees and consultation bodies, ensuring a focus on children, rangatahi, whānau and the community-based social service providers who serve them
Publishing thought-leadership papers on key kaupapa related to social services and whānau oranga
Speaking out publicly on kaupapa relating to our strategic priorities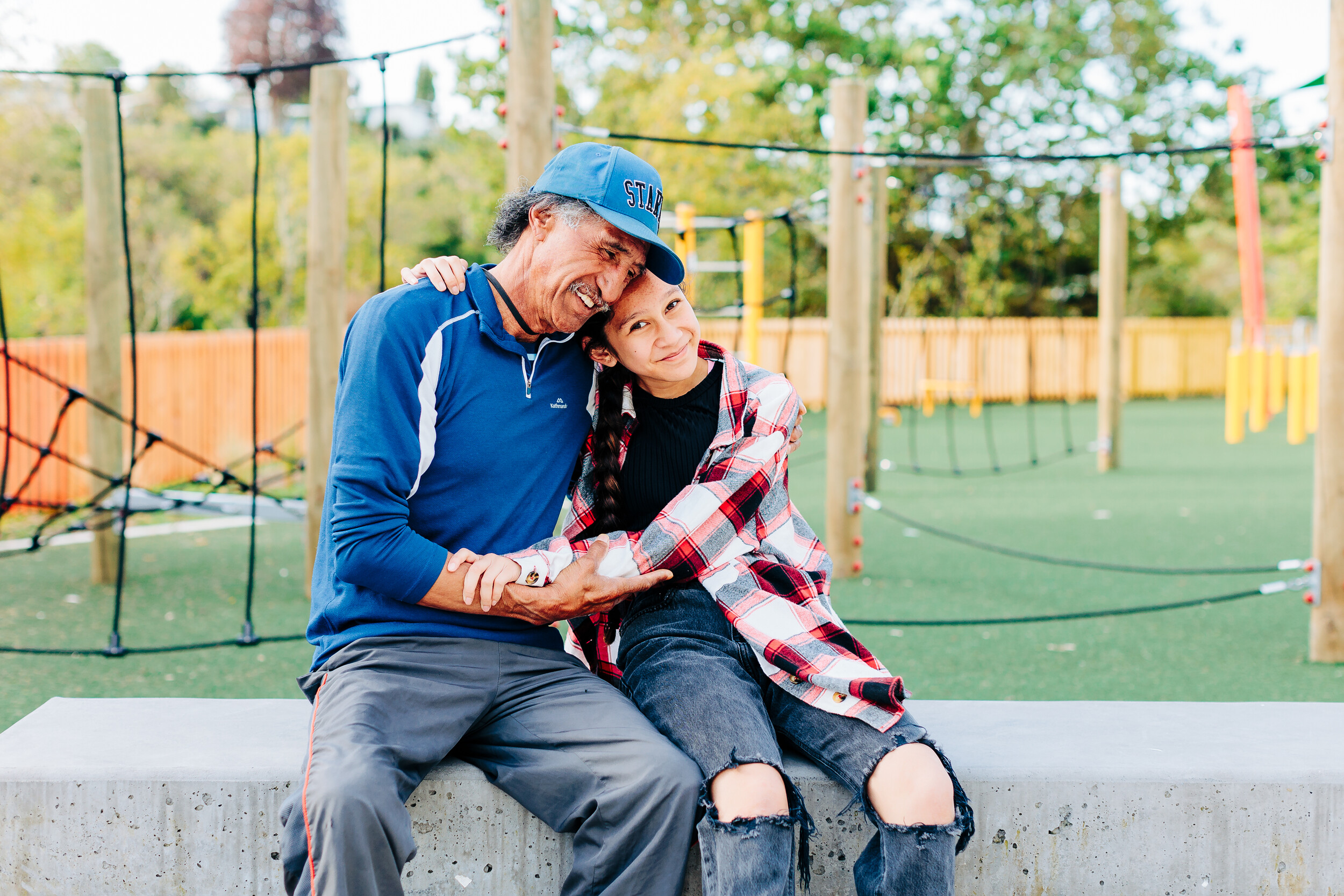 Information
Our members are focused on the mahi they are doing every day alongside children, rangatahi and whānau, so the role we play in curating key information for them, and helping to tell their stories of change, hope and impact, is a responsibility we take seriously.
We keep our members informed about sector news, events, research findings and policy changes through Te Whakahou The Update (our weekly e-pānui), special member alert emails, hui and social media. We also publish Kia Mauri Ora, our biannual magazine showcasing mahi across our social services and wider social sector - you can find out more below.
Learning and development
Strengthening social services kaimahi in their practice with children & whānau
We offer a range of Learning and Development opportunities throughout the year, which are responsive to what our members tell us they need and to workforce development needs. These offerings provide our members and others working across the community-based social sector with new knowledge and opportunities to learn. By participating in our learning and development offerings, kaimahi also strengthen collective workforce capability, and have opportunities to share their experience and maatauranga with fellow kaimahi. Find out more about our upcoming workshops on our Events page here.
Through our learning and development offerings, a range of Communities of Practice have been initiated at the local and regional level, focusing on kaupapa such as tiaki tamariki whakamana whānau, good information sharing for child wellbeing, and social services kaimahi hauora (social services worker wellbeing).
Whakamanawa – The National Social Services Conference
SSPA annually hosts Whakamanawa – The National Social Services Conference, the place for all those working across our community-based social services and wider social sector to connect, learn and be inspired and strengthened. Whakamanawa was most recently held in May 2023 at Te Papa Tongarewa in Te Whanganui-a-Tara. Whakamanawa is the only conference of its kind, bringing together social services kaimahi, social sector leaders and shapers from all corners of the motu.
Whakamanawa provides SSPA members and those working across our social sector with an opportunity to engage with each other on kaupapa of shared interest. It is a safe space of kaimahi to learn about and share whakaaro on the latest developments in government policy, social service practice, workforce development and related kaupapa.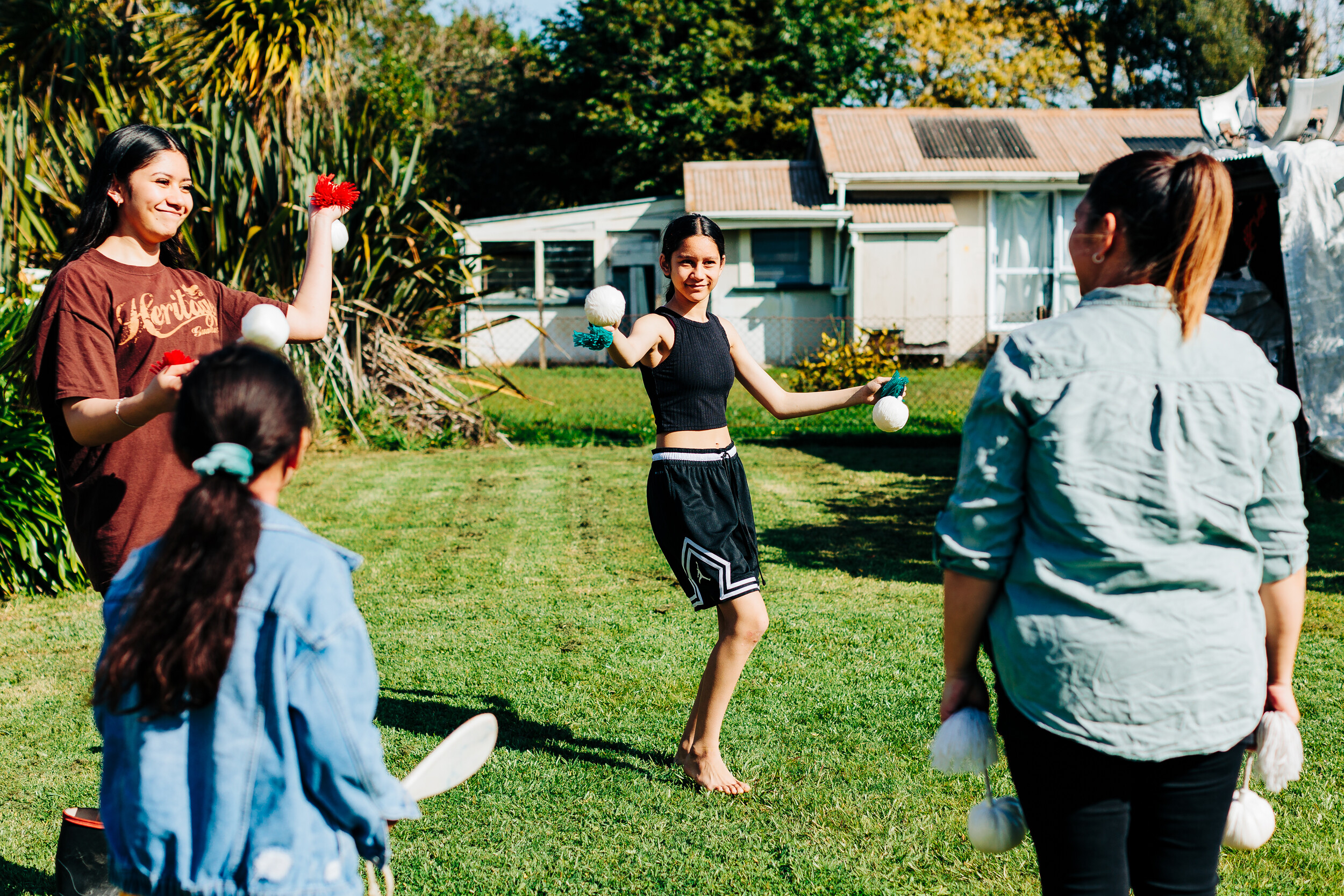 Sector leadership
As a collective sector body for community-based social services, we provide sector leadership across a range of issues critical to the sustainability of the social sector. We ground our approach in a commitment to equity, family and whānau ora, and Te Tiriti o Waitangi. Our current sector leadership is focused on pay equity, social sector commissioning, holistic kaimahi hauora, workforce planning and development, and diversity and inclusion in community-based social services. We are also committed to raising a focus on climate justice and environmental sustainability as it relates to the mahi of social services and our communities intergenerationally. Recently we have actively demonstrated this commitment in our mahi relating to the flood and cylone response and recovery, working to tautoko our members and influence change.
SSPA participates in system-level, cross-agency and sector initiatives that are aligned to our strategic priorities. Currently, this includes mahi relating to child and youth wellbeing, family and sexual violence elimination, social sector commissioning, social sector workforce planning and development.
We also lead out on kaupapa of concern to our membership and which are sector-wide. Currently a focus is on pay equity – learn more below.
Pay Equity for community-based social services kaimahi
In August 2019, two separate pay equity claims were lodged by the PSA, one relating to people in social work roles, and the other for a broader range of social service workers. SSPA is coordinating the community-based employers' response to the pay equity claims, acting as a sector representative.
A settlement in the social work pay equity claim was reached in 2022, for the five organisations in the claim. Then on 24 November 2022, a pay equity extension was announced for all community-based social work roles throughout Aotearoa New Zealand. In June 2023, a final decision from Cabinet confirmed that the social work pay equity extension settlement would be made, effective from 01 July 2023. This means that the terms of the claim settlement are being extended to all people in social work roles who are working in the community, across Iwi, Kaupapa Māori, Pacific and NGO social service organisations.
This pay equity extension is a major win and landmark, historic outcome for our community-based social services. It means that over 5000 workers will receive the extension, and kaimahi covered by the extension will receive on average a 27% pay correction.
Find all the key information about the extension and how it will be implemented here on the Te Kawa Mataaho website
Read SSPA's joint media statement with the PSA about the extension here
Read the media release from Minister Sepuloni and Minister Tinetti about the extension here
If you have pātai about the implementation of the extension, please contact Te Kawa Mataaho's Pay Equity Taskforce team on payequityextension@publicservice.govt.nz, or email us at SSPA on our dedicated pay equity email address, payequity@sspa.org.nz
As of mid-2023, we are getting under way with mahi as sector coordinator for the second pay equity claim, relating to a wider group of social service workers. Click below to learn more.
Kaimahi Hauora in our social services
It's been a tough few years for everyone, taking care of our own wellbeing could not be more important right now, and SSPA is committed to growing a movement of holistic hauora amongst social services kaimahi throughout Aotearoa New Zealand.
As a champion the holistic hauora of community-based social services kaimahi, in we 2022 ran the innaguaral SSPA Kaimahi Hauora Programme across the course of six weeks, grounded in Te Whare Tapa Whā and the Five Ways to Wellbeing. The Programme was created to give back to social services kaimahi across our community-based social sector, and was funded by Foundation North, Trust Waikato and Rāta Foundation, and run with the support of our friends at the Centre for Social Impact. Kaimahi who participated gained practical tools to use in their daily life and share with their hoamahi and whānau, and with hugely positive feedback from those who participated, we aim to continue to offer programmes with this focus.
In 2023 we are running a campaign advocating for social services kaimahi hauora. If you want to participate in this, please contact communications@sspa.org.nz with Kaimahi Hauora in the subject line.
Relationship Weaving
SSPA provides our members with access to a community of people and organisations doing similar work. We nourish the weaving of relationships at the local, regional and national levels, and tautoko initiatives that are collective, collaborative and community-led. We provide our members with whakawhanaungatanga opportunities, to hui together kanohi ki te kanohi and online.
We are currently working with members to build Communities of Practice and regional SSPA Networks, providing collective opportunities for our members in their communities, supporting regional connections and encouraging local collaboration and partnership across the social sector.
Kia Mauri Ora
Our biannual magazine, Kia Mauri Ora focuses on social service practice and shares stories of practice, research and maatauranga to inspire, alongside updates on key developments across the community and government social sector. Kia Mauri Ora is the only publication of its kind in Aotearoa New Zealand. An editorial board of highly respected practitioners and academics supports the magazine's publication.

Kia Mauri Ora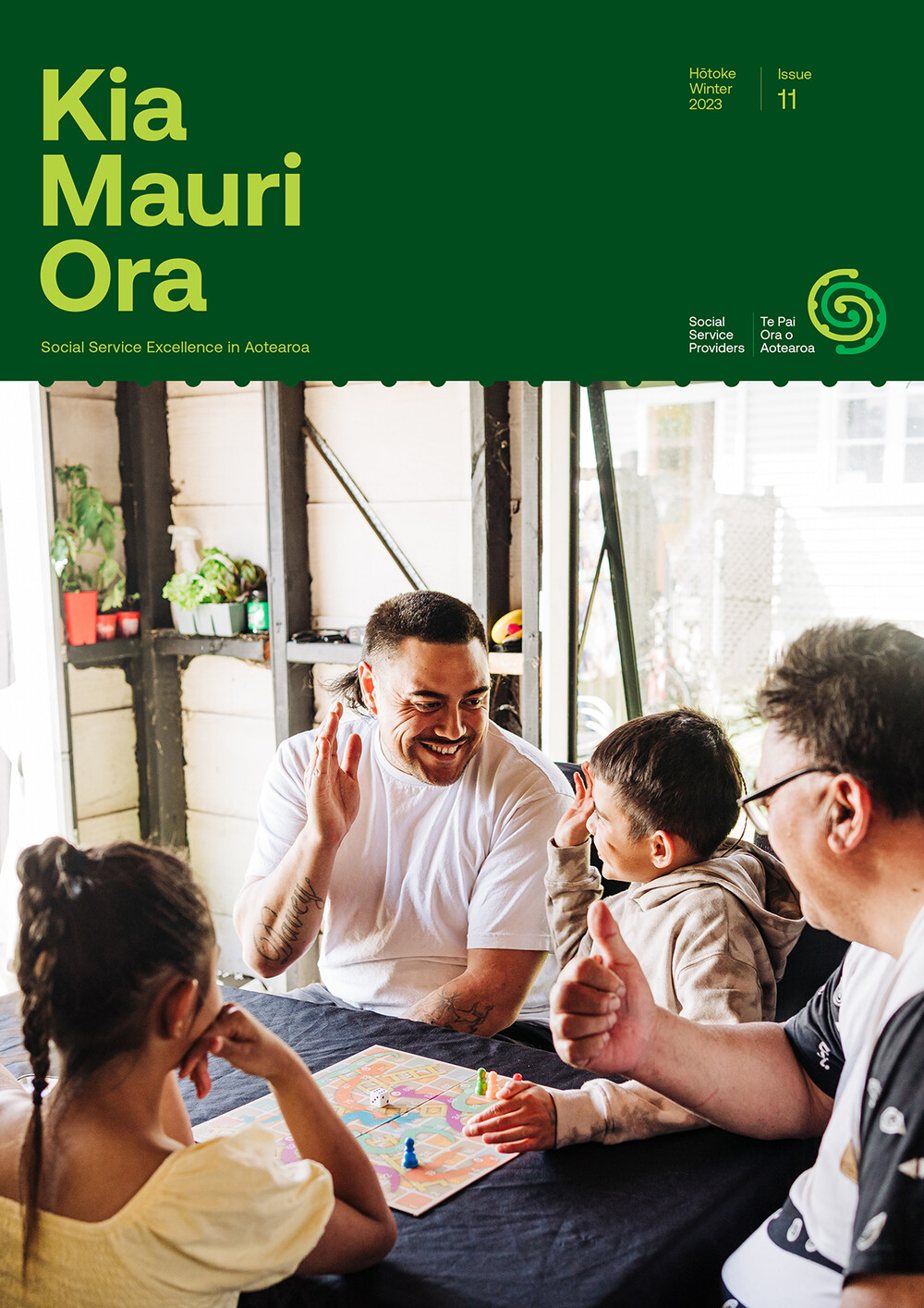 Issue 11 is out now!
In this issue:
'No rhyme nor reason' – the impact of Cyclone Gabrielle in Ahuriri
Nathan Harrington, Chief Executive of Te Kupenga Hauora – Ahuriri has watched his hapori gather and support each other
Kai and Kōrero – weaving magic in Papakura
Tony Kake shares the mahi of Papakura Marae
Removing the Barriers so all Whānau can Flourish
Manaaki Tairāwhiti was formed by a group of local iwi and social sector leaders focused on working together